Food Sauces Filling and Packaging Equipment
IC Filling Systems offer a complete range of Food Sauces Filling and Packaging Equipment including Piston Fillers for Viscous Products and Extended Shelf Life Ultra Clean Filling for Milk, Yoghurt Drinks and Fruit Juices or Smoothies.
Compact Flexibloc – Linear Filling, Capping & Labelling for Food Sauces
The FLEXIBLOC is a linear system custom designed around your specific requirements. It does not require
any change parts
when changing bottle formats. The length of the Flexibloc will vary, depending on the extra features that you require for your packaging. For example, top strip duty label, multiple labels, and different types of caps. These bottling lines are made specifically for filling olive oil, vinegars, & other food liquids at low speed but automatically in glass bottles of any size and shape. The FLEXIBLOC is a compact linear system designed for low speeds, and has a very special, unique feature. This exclusive system is capable of handling on a single complete line, different format bottles from 50ml to 2000ml,
without any change parts
thanks to our special bottle size change over system (international patent pending).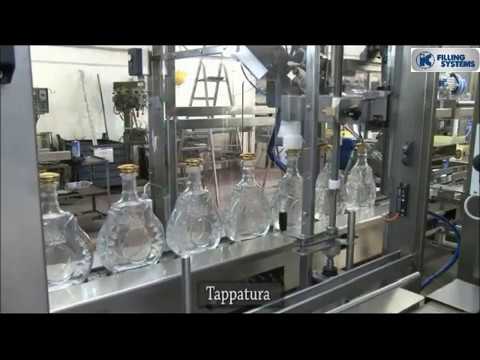 This key advantage is very much appreciated in food sauces such as vinegar and oils, where usually many different (and complex) bottles are processed, and production batches are small. The complete bottle size change over, is performed by simple and easy adjustments (15-30 minutes depending on the size of the machine), and no replacement of handling parts is required. IC Filling Systems can supply very compact systems to perform the total bottling cycle, from rinsing and filling to labelling (front, back & neck) including capping, capsuling, coding and seal/tax strip application in fully automatic mode, for a speed ranging from 400 bph to 1500 bph. The whole plant, linear system, "tailor made", multi-function and multi-format, is made as a single unit. It is a monoblock with a very compact footprint, easy to install and easy to manage. We can also guarantee:
Total respect of the product being filled (especially suitable for high-end top quality products)
Application of nearly every kind of caps (ROPP, screw, press-on) and capsules (plastic, or tinfoil)
Application of different labels, front, back and neck, collars and fiscal seals of any type and size, with extreme accuracy.
For a better understanding how the FLEXIBLOC works, click on the video above or
view on our Youtube channel
.
Other applications for Liquid Food Sauces
We offer a wide range of fillers, which are used to fill a variety of different type of liquid and semi liquid Food sauces, such as:
Non contact 4 head linear flowmeter filler for milk
Non Contact filling for Milk with HEPA filters
Volumetric Filler Capper for Yoghurt – Single serve
Ultra Clean Filling block for fruit juice
Volumetric Filler Capper for Mayonnaise – Tube Filler
Volumetric Filler Capper for oil – PET Neck Handling
Volumetric Filling Line for Milk
Volumetric Filler Capper for oil – Glass bottles
Volumetric Filler for Oil – Glass Bottles with Press on Plastic Caps
Volumetric Filler Capper for Mayonnaise
Volumetric Filler Capper for Oil – 5Ltr PET Bottles
Volumetric Filling Line – Drinking Yoghurt
For more information, contact our Sales Director Marco Solferini on sales@icfsgroup.com or please call on +39 035 046 0297 (Italy) +44 1865 520 083 (UK) or +1 707 236 6353 (US).  Alternatively, use our chat mechanism at the bottom of the page, use our quick contact form or request a quotation.
Checking...
Ouch! There was a server error.
Retry »
Sending message...
Let's talk today...
We'll respond to your enquiry promptly.